Post by Boss on May 5, 2015 3:17:08 GMT
Quote: "Delta, move out. Secure the objective.
Name: Boss RC-1138
Age: 12
Height: 6'0
Weight: 250 lbs with armor 310 lbs
Powers/Abilities/Equipment:
Equipment- Katarn armor, DC-17 multiple attachment blaster, blaster pistol, Bacta gun, and hidden vibro wrist blade.
Powers- N/A
Abilities- Hacking, Demolition's, superb military training, can use any weapon found on the battlefield, and has a variety of grenades.
Picture: Must have at least one for your character, and actual appearance.(Optional for anything extra)
Person-
Armor-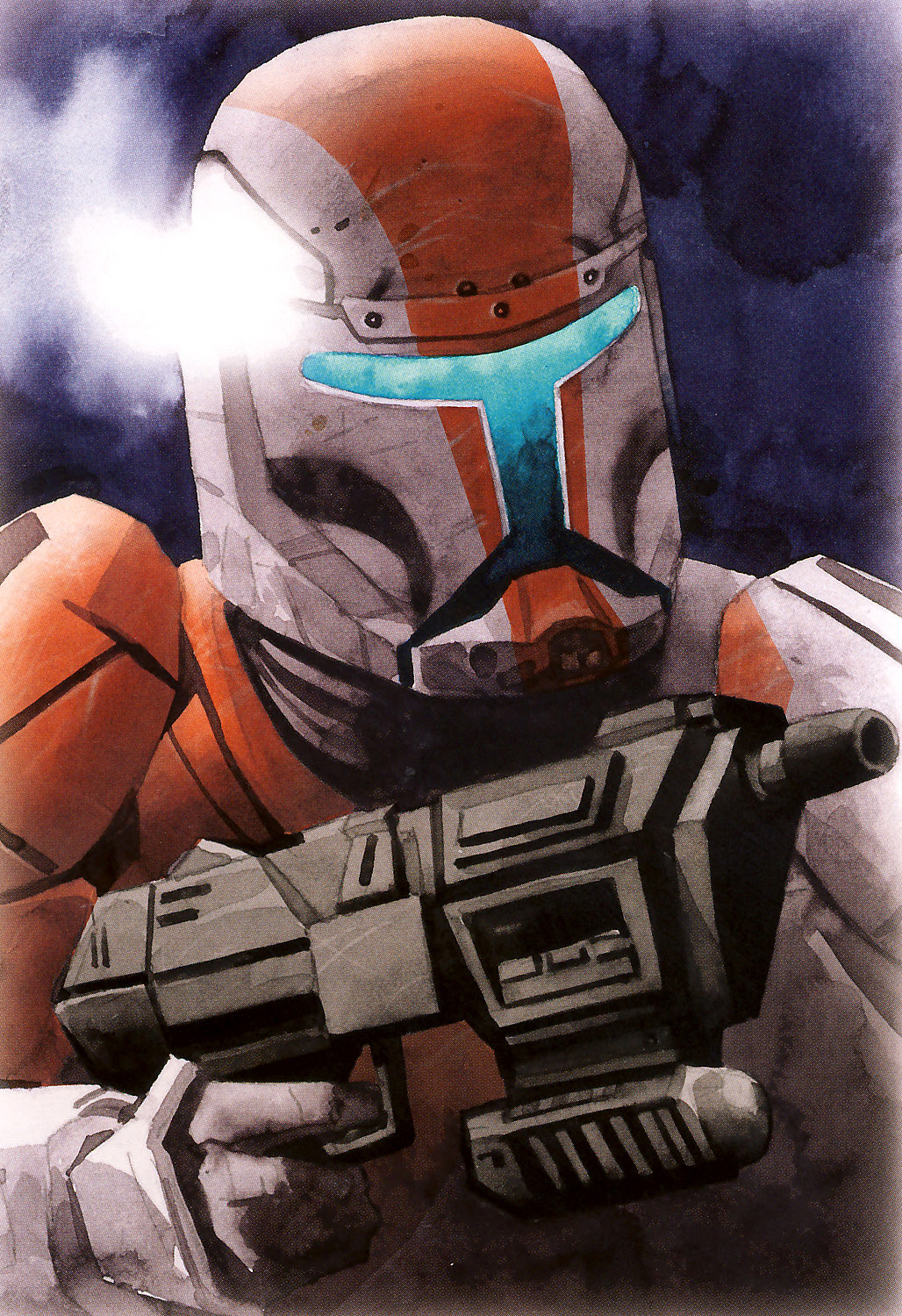 Ship: (if applicable)
Personality: RC-1138—nicknamed "Boss" for his role as the leader of Delta Squad—was an incredibly gifted soldier. Scoring higher than most of his clone commando compatriots during his training on Kamino at a young age, Boss impressed his Mandalorian training sergeant, Walon Vau, with his prowess.[1] Though a natural leader, Boss was relatively taciturn and often when he did speak, it was usually to issue an order to his squad. Boss had earned the respect and loyalty of his Delta Squad comrades, and did his best to repay their faith in him with strong, effective leadership.[5] He cared a great deal for his squadmates, like most other clone commandos, viewed his team as brothers.[10] Interestingly, despite being raised and trained by Cuy'val Dar sergeant Walon Vau, Boss would come to speak with Jango Fett's own Concord Dawn accent and speech patterns[5]—though this trait was common to the flash-learned standard clone troops, as well.
Physical Description: He is a clone of Jango fett, has some facial hair, and has brown eyes.
History: RC-1138 was born in the year 32 BBY, in the cloning facilities of Tipoca City, on the aquatic planet of Kamino. A clone of the Mandalorian bounty hunter Jango Fett, RC-1138 was created to serve in the Grand Army of the Republic as a clone commando and, following a course of flash training, was placed under the direct training of the Mandalorian Cuy'val Dar training sergeant, Walon Vau. As his training progressed, Three-Eight proved himself an incredibly capable soldier, consistently scoring the highest of his clone brothers in weapon and tactics training. During a test of his melee skills with his training sergeant, Three-Eight broke Walon Vau's arm. With these accomplishments in mind, Vau assigned RC-1138 to Delta Squad, one of the first commando squads established by the Kaminoans, where he would serve as it's sergeant, and thus came to be known as "Boss" to his three squadmates, RC-1140, RC-1207, and RC-1262—known informally as "Fixer", "Sev", and "Scorch", respectively.
Alignment: Good
Allies: Delta Squad, The Republic
Rivals: Other Clone Commando's
Plans: Survive the war, get his squad through combat with no deaths.
Other: Has a very good tactical mind, and a keen sense for trouble.
Sample Post: N/A
Some form of the Site Motto: I chose to fight with my brother's, while politiceans chose to use us as slaves.