Post by Temnyy Prorok on Apr 14, 2015 22:51:36 GMT
The Xenomorph race is a are insectoid creatures hailing from Xeno-prime who's only goal is the propagation of their race and the destruction of any threats to their race. Xenos are known for their inner mouths, spiked tail, and their acidic blood. The Xenomorph species is split into sects of Drones, Praetorians, Queens, and Empresses. A queen will lay over a hundred eggs and after they hatch a spider like Facehugger will emerge and hunt out a target of another species and grab onto their head forcing an embryo down their the Facehugger then dies and after about an hour the embryo will develop into a worm that will chew it's way out of it's host's ribcage until it bursts from the chest it will then develop into a Drone. The Salarians attempted to study these creatures but they escaped and spread throughout the galaxy due to poor quarantine protocols. The Yautja attempted to help stem the tide but in the end they weren't enough for this large of an infestation and the Krogan were brought in. Eventually the Krogan were able to drive them back and kill the Empress, the head of which was handed to the Urdnot clan and passed down to each Clan Leader. But some off world hives survived and some of their queens were sold to criminal organizations, collectors, and terrorist cells.
Castes
Boiler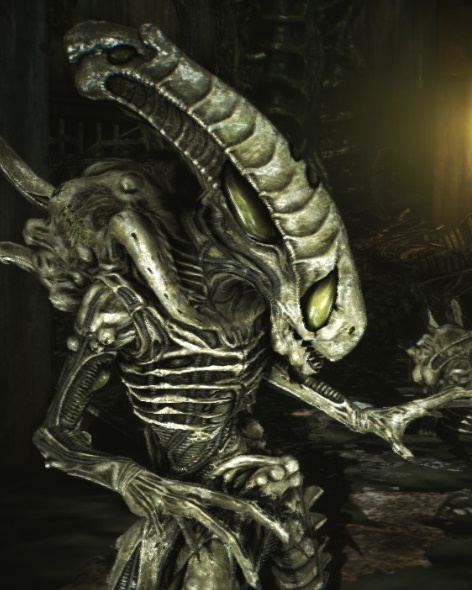 Boilers are Xenomorphs that have aged past the ability to be Drones or Warriors, they mostly stay in a dormant state for most of their lives unless they are disturbed by some outside force. When disturbed they will rush towards the source of the disturbance, boiling the blood in their bodies and exploding on contact.
Drone
Drones are the most common form of Xeno, they're fast, light, and make excellent builders. A batch of Drones can make a hive in a matter of days. But when it comes to combat they have to resort to rushing their enemy and overwhelming them.
Praetorian
Praetorian guards are the toughest warriors of the Xenomorph race, they guard the queen while she resides in her chamber birthing new eggs. They are distinctive due to their large crested heads.