Post by Temnyy Prorok on Apr 14, 2015 22:03:54 GMT
Below are all the variations of the clssic of lightsaber.
Protosaber
Before the advancement in lightsaber technology after the Hundred-Year Darkness, lightsabers had significantly higher power requirements, necessitating belt-mounted power packs; these packs were connected to the hilt by a cord. While a massive advancement over the highly unstable original lightsabers, protosabers were eventually rendered obsolete by miniaturized power cells and the inclusion of the superconductor technology that allowed the energy of the blade to return to the hilt, creating an energy loop that only lost power when interrupted, such as when a lightsaber cut.
Enthusiasts would later mimic this design using modern parts, citing aesthetics and improved cutting power as benefits of these "retrosabers".
Double-Bladed Lightsabers
Also referred to as saberstaffs and Sith lightsabers, double-bladed lightsabers consisted of a single hilt that projected a blade from both ends, resulting in a deadly staff-like weapon. Most saberstaff hilts were of increased length, as they usually consisted of two separate lightsabers connected at the pommels.
According to the Tedryn Holocron, saberstaffs were first invented by the Sith Lords of the old Sith Empire. The first recorded usage of the weapon was by the Sith Lord Exar Kun, who obtained the schematics for the weapon from a Sith holocron, using them to modify his existing Jedi lightsaber.
Guard Shoto
A variation on the standard short shoto lightsabers, guard shotos featured an elongated hilt with a secondary handle built angling 90 degrees out from the main hilt. They were built to be carried by the second handle, with the blade parallel to the forearm, allowing the weapon to be easily used for blocks. Due to the defensive nature of the weapon, it was recommended that the casing be machined out of lightsaber-resistant phrik alloy.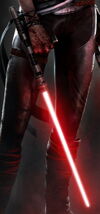 Crossguard Lightsaber
An extremely rare variant only seen in the hands of skilled duelists, crossguard lightsabers, also known as forked lightsabers, featured a specialized hilt which emitted two blades. One blade was the standard lightsaber blade, but the second was a significantly shorter and thinner blade projected by a secondary emitter next to the main at an angle. The secondary blade was used as a guard to protect the hand, and on occasion to catch attacks between it and the main blade.
Curved Hilt Lightsaber
Curved-hilt lightsabers were of a design which featured a hilt with a built in curve. This was usually done to allow the hilt to fit better into the palm, facilitating the use of one-handed fighting styles such as Makashi, or to provide variable blade angle to confuse opponents.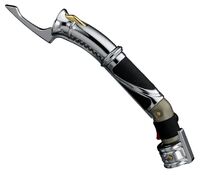 Long-handle Lightsaber
Built to cater to specific fighting styles, long-handle lightsabers featured a lengthened handle that provided the duelist with more surface area to place his hands, and providing more leverage for attacks. The length of long-handled lightsabers varied considerably, with some examples, such as the weapon of Warb Null simply being double the length of standard hilts, and others, such as Darth Nihl's weapon, being staffs with a lightsaber blade on the end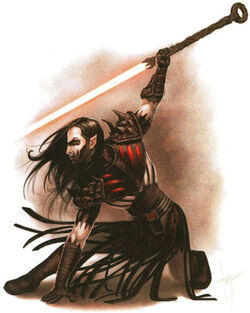 Lightsaber Pike
Resembling pole-arms in many respects, lightsaber pikes featured extremely long handles, up to two meters long, with a somewhat shorter and thicker lightsaber blade. The handle was machined from phrik alloy to prevent it from being cut in two, as the purpose of the weapon was to provide increased range in close combat.

War Dragon rider's Saber
At some point between the start of the Clone Wars and the rise of the Galactic Empire, a warrior mounted on an Ubese Thorn-Back War Dragon wielded a modified lightsaber with two hilts and three separate blades, one on each end and one connecting the weapon's two handles together
Electrum detail
The only difference an electrum-detailed lightsaber possessed compared to the standard was that its casing was built with the golden electrum metal. A purely cosmetic accessory, this feature was only allowed to high-ranking members of the Jedi Order, being a prestigious honor bestowed on masters who have demonstrated their strength and skill.

Lightwhip
Lightwhips were exotic variations on the typical lightsaber that saw only rare usage. Like a lightsaber, it emitted a coherent beam of energy, but instead of a straight meter-long blade, it was several meters in length and flexible. Most lightwhips were produced by emitters extended from the hilt. The energy field was then created around the solid emitters. Wielded in a whip-like manner, they were used to attack opponents at a range and provide an element of unpredictability in combat. However, they were significantly weaker than standard lightsabers, and their blades were ineffective defensively. Lightwhip wielders include Githany, Lumiya, Silri.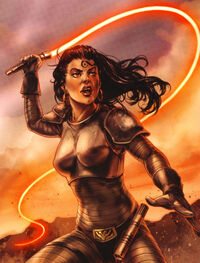 Lightfoil
Lightfoils were small and elegant energy swords based upon lightsabers. They were popular among certain nobles of the Tapani sector, especially those that called themselves "saber rakes." Lightfoils were weaker than authentic lightsabers due to the poor quality focusing crystals used in their manufacture and the relatively low level of craftsmanship compared to Jedi artisans. They did not require any connection to the Force to create, and were fully usable by non-Force sensitives.