Post by Temnyy Prorok on Jul 11, 2014 11:23:26 GMT
Quote:
"The Force is of both Dark, and Light. It is balanced by one who know's how to use both. By one who understands both."
Name: Temnyy Prorok is the name I go by.
Age: 29
Height: 6'7
Weight: 240 lbs
Powers/Abilities/Equipment:
Powers- Force Grip, Force Lightning, Force Rage, Force Heal, Force Push/Pull, Force Throw, and Force Repulse. After examining Exar Kun's tomb, he will learn how to use Force Destruction, Force Insanity, Sith Alchemy, Force Drain, and Force crush.
Abilities- Temnyy has the ability to fight with light saber's and firearms. As well as pilot vehicles and hacking. His main combat ability is the ability to switch between double bladed light saber, and two blades. In all, he carries two light saber's with him. (later it will become three).
Equipment- Light saber's, DC-15 blaster, tactical stun grenades, Speed bike, and a Republic Frigate full of loyal (to him) clone trooper's.
(First lightsaber,Black double blade. Second handcrafted Red that can become two or a double blade. Third, purple double blade)
Picture: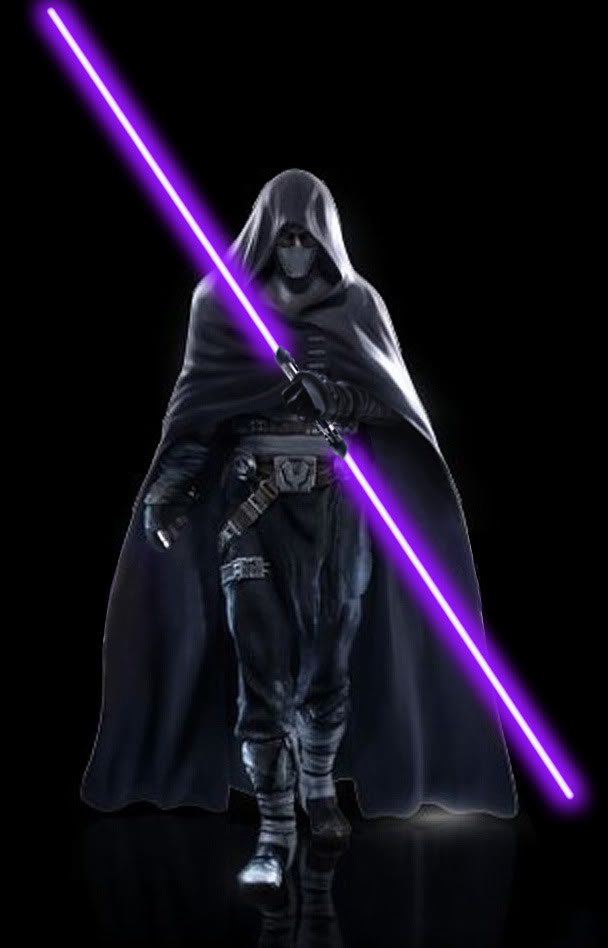 His Ship
Personality: Temnyy Prorok is a very confused individual. When he had a teaching he believed in, he was a model student. Followed the rules, meditated when agitated and relaxed his mind, and did everything he could to follow the jedi order. He stays a reasonable person through the transformation of Jedi, to Fallen Jedi.
Physical Description: Temnyy Prorok is pale white, with black hair, and light gold eyes. He tends to wear his black robe, or on occasion, his red battle robe. It is unsure how he received the black robe with which he uses. He also wears black boots, and gloves. He also has a leather pouch that holds his light saber's, and holster for his blaster.
History: Temnyy Prorok was born on the desolate planet of Pandora, and was found by a Jedi master who had traveled there. He was, at first, reluctant to go, because he was still trying to find his brother, who had been taken by someone, who used the dark side of the force. Upon leaving Pandora, and receiving more training in the ways of the force, he had thoughts and question's about the other side of the force, which he pushed out of his mind. Some time later, after being named a 'Knight' by the Jedi order, he went out and started investigating tombs that he had heard about while in the academy. Needless to say, they were tombs of Sith Lords, which had yet to be destroyed or covered up. This led to a dangerous fixation and fascination with them. He would study there abilities and holocron's every day. Until the name 'Exar Kun' was referenced. Then he learned of the double bladed fighting style. He was already a master with two light saber's, and so wished to challenge himself with the idea of a double bladed light saber, which then brought about the creation of his modified double bladed light saber. In essence it was is two single blades, snaping into one. Which allowed him a unique fighting style he could use in combat. He trained with this new technique to master it as well. He could switch between a double bladed and two blades at any point he wished while in the midst of combat. Eventually he started to question many things the Jedi Council had done, and why many inequalites and teachings were looked over with the master's themselves. He openly accused certain members of this, and the jedi council soon learned of his endeavors and decided to place a hearing and place judgement on him with in the next two months taking him off the front lines of the Clone War's and away from his trooper's. (Eventually he gets them back)
Alignment: At fisrt, Good, but after going into Exar-Kun's tomb he will become a fallen Jedi.
Allies: Eventually Provantus and Mirnoye. Marlow, his clone trooper's.
Rivals: any who dare to oppose him. The Jedi Council.
Plans: Become a Master of the force. Take out the Jedi Council.
Other: He know's how to read people's lips, and change how his voice sounds.
Sample Post:
Temnyy sat in the middle of the room, meditating. His mind had wondered back to the tomb he had left three days ago.
"Exar Kun..." He said aloud, knowing he was alone in the room.
"I wonder what form of Force and light saber technique you use..." He said, getting up from his cross legged position and standing up in the middle of the room. He looked about it, and sighed. He needed to practice some more. He pulled his two light saber's from the pouch he kept them in, and switched them on. The dimly lit red glow from them gave his face an eerie look to it. Although Jedi looked down upon using a Red crystal, it was the one that called out to him first, and the one's he found. They also tended to match him better than other's did... He began practice, swinging the blades and pretending to fight, then, half way through, he connected the two blades creating a double bladed light saber, and continued practicing, as if nothing had changed in his fighting style.
Some form of the Site Motto: I did once, what the jedi would not.