Post by Darth Provanteus on Apr 24, 2015 17:54:04 GMT
Name: Darth Provanteus
Age:35
Height: 32
Weight: 6'9
Powers/Abilities/Equipment: Darth Provanteus is strong with the force including Force push, pull, choke, telekenesis, repulse, Saber channeling, Animal friendship, Sith torture, and Sith Lightning, He has extensive cybernetic enhancements through the process of being a Sith Stalker, he is an extremely powerful lightsaber wielder and carries twelve on him at all time, his standard curved Sith lightsaber, a double bladed lightsaber, two tonfa lightsabers, eight Jedi sabers taken as trophies, and an ancient Darksaber known for it's sword tip and a black colored blade. He is also a excellent shot and carries two DC-17 repeating blaster pistols and a DE-10 Blaster Pistol. He speaks fluent Huttese, Rodese, Tusken, and other languages.

Physical Description: Provanteus has had extensive cybernetic modification most of his lower arms have been replaced with cybernetic prosthesis, his fingers end in long metal blades that are retractable but due to years of practice they do not impede the use of his hands even when they are released. His head protection consists of a form fitting helmet with a T-shaped visor with a breathing apparatus, protecting his neck is a high metal collar that connects to a form fitting shoulder guard on the right shoulder with metal plates grafted to the skin to protect the arm his left arm is left unprotected, his entire torso is protected by ribbed metal plates, his legs are covered by a floor length battle skirt on top of which he wears a belt for his collected lightsabers, underneath his armor he wears a black leather bodysuit as to not impede his agility, strength, and Force abilities. The organic parts of his body are corrupted by his Sith influence his skin is pale and veins are visible and at the area where his helmet meets his collar a long, thin braid of white hair. When keeping a low profile he wears cloth wrappings around his head and a ragged and torn brown hooded cloak.
Personality: Provanteus is egotistical, ruthless, and determined, he has no interest in money and is only a bounty hunter for the thrill of the hunt and the kill he will usually spend money on upgrades for his ship and droid, he believes firmly in the idea of you keep what you kill and collects trophies from everyhunt, he is loyal to those he knows will give him plenty of chances to hunt. He has a blatant disregard for all life and a lack of respect for his prey only referring to them by their race, if the prey impresses him he will call them Hunter/Huntress followed by there full name. If a hunt intrigues him enogh he will never let it go and track his prey with a single minded determination.
History: Provanteus was trained from birth to be a Sith and when he reached adulthood he was transformed into a Sith Stalker. Being used as a assassin he became obsessed with collecting lightsabers but soon grew bored with it and left to become a bounty hunter. Credits he earned were instantly used to add to his hunting party and upgrade his ship.
Other: His ship
The Hunter's Call
can carry his crew of twenty made up of Rodians, Tuskens, Gomoreans, Krogan, Wookies, his HK-48 assassin droid, and Batarians.
He has two Pet Skags:
IronJaw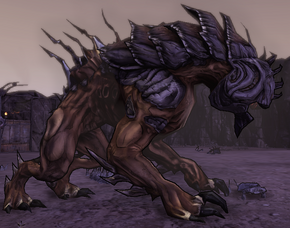 NeedleTooth
Sample Post: Provanteus sat in his quarters extremely bored."We need another hunt now!" He sighed. It had been a while since even his fat slug employers The Hutts had contacted him perhaps Jabba had some work."By the Sith this is just ridiculous I'm a grown man I can find my own hunts." The communicator on his wall buzzed."Master we're are nearing the Citadel." Provanteus smiled under his helmet. He'd just found a new hunting ground.
I chose to hunt while a fool stood in my way.